Welcome to the
Przybylski Clinic
The Przybylski Clinic specializes in hair transplantation, beard transplantation, eyebrows, bends, hair thickening, which are performed by the
FUE method
– follicular units extraction and
BHT
– body hair transplant method.
The Clinic is formed by an interdisciplinary team of professionals under the leadership of doctor of medicine, Andrzej Przybylski. The Clinic personnel includes doctors, nurses, laboratory technicians and other technicians, passionate about their field of male and female hair loss therapy.
Vast experience of the team in the field of hair medicine – from pharmacological therapy of hair loss, thickening of existing hair using platelet-rick plasma, to FUE and BHT surgical techniques – allows to treat effectively the hair loss of patients who thanks to the wonderful effects regain their self-confidence.
Transplantation of hair, beard, bends, eyebrows, hair implantation and thickening, etc. is performed by DMedSc Andrzej Przybylski, a specialist in orthopedics and musculoskeletal traumatology, a graduate of postgraduate studies in the field of Aesthetic Medicine at the Medical University of Warsaw.
If you want to know how much a hair transplant costs in the Przybylski Clinic, see our the
price list.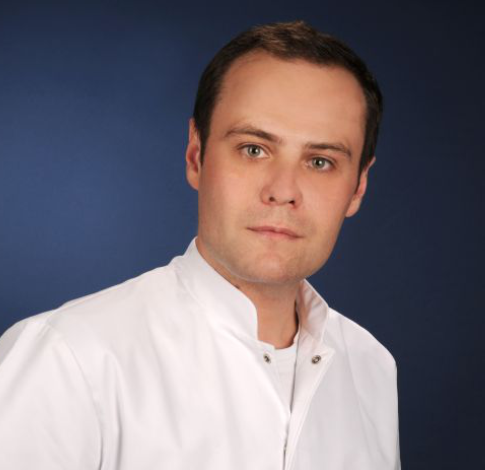 Andrzej Przybylski,
DmedSc
A graduate of the Poznan University of Medical Sciences at the Faculty of Medicine (2008). After completing the postgraduate internship, he began specialization in orthopedics and musculoskeletal traumatology in the Provincial Hospital Complex in Kalisz. During his specialization he obtained the title of the doctor of medical sciences at the Medical University of Lodz in 2014. The title of specialist in orthopedics and musculoskeletal traumatology, he received in 2016.
In 2015, he started post-graduate studies in aesthetic medicine at the Medical University of Warsaw. Since 2014 he deals with FUE and FUT hair transplantation. Initially, he performed FUE procedures mechanically. The method, although faster, does not give control over the quality of grafts (hair follicles) collected. Too much ease in corrupting grafts convinced dr Przybylski to perform FUE procedures only manually. FUE manual treatments are slower, at the same time they give better precision in collecting grafts and save the place from which grafts are taken. Obtaining excellent results in the manual FUE method, he completely discarded the FUT method - belt method. As one of the few doctors in Poland, he conducts statistics of treatments. This confirms the excellent skills of DMedSc Andrzej Przybylski. He conducts hair transplantation every day at the Przybylski Clinic in Kalisz.